Career advice from 5 self-made celebs
Beyoncé. Drake. DiCaprio. The Rock. J.Lo.
Revered for their artistic talents (and often lavish lifestyles), these celebrities have become household names. They also all have one thing in common: they are entirely self-made. How did they do it? With a lot of hard work and struggle, as it turns out. 
Here is some valuable career advice from these 5 self-made celebs.
Beyoncé: "Don't fear failure."
Beyoncé may be as fierce as they come these days, but it wasn't always that way. She started young (think pre-teens) and worked towards her massive success over many years. As you can imagine, it wasn't all super bowl parties and award shows; she experienced a lot of failure, including a losing appearance on Star Search. 
She opens up about some of her early failures in her feature film "Self-Titled" and explains why those experiences are important: "you're never too good, too big or too smart to lose; it happens when it needs to happen and you have to embrace those things".
Beyoncé reminds us that failure, as embarrassing and upsetting as it can be, can also be a learning experience. Why did you get passed over for that promotion? Why did that job interview not work out? These are difficult questions to ask, and often we let the answers keep us from pursuing dreams and opportunities. But with a little bit of courage (and maybe some fierceness), you can turn past failures into the building blocks of something much greater. You just can't be afraid to fail. You have to try.  
The Rock: "Success is about consistency."
Dwayne Johnson has made a name for himself in the ring and at the box office, but it was a long way to the top for "The Rock." In fact, he started his wrestling career competing in barns and flea markets, and had to work his way into the bright lights of the WWE (and then the film industry, becoming one of the few professional wrestlers to be taken seriously in Hollywood).
Fittingly, Johnson often talks about the importance of hard work and dedication: "Success isn't always about greatness. It's about consistency. Consistent hard work leads to success. Greatness will come."
Nothing good comes easy, as they say, and "The Rock" serves as an example that if you're willing to put in the hours, it will eventually pay off.
Drake: "Don't change who you are."
Drizzy may be sitting pretty on top of the world (or the CN Tower, as it were), but even he feels pressure to adopt the latest styles and trends. Despite this, he contends that he hasn't let the rap industry change him.
Unlike the vast majority of hip hop stars, Drake has opened up about not growing up in a rough neighbourhood or doing jail time. He was raised in a comfortable, single parent home in Toronto, where he got his 'big break' starring in the TV series Degrassi Junior High. Drake is honest about his upbringing, even if it means looking whack. "I don't have skeletons in the closet on their way out. This is my real age, my real name, my real past, and I'm good with that—I'm grateful for that."
Drake's lesson: whatever your work may be, you don't need to change who you are to be successful. In fact, staying true to yourself just might be the key to carving your own path to success.
Jennifer Lopez: "Embrace your mistakes."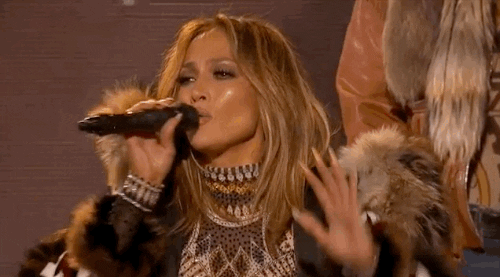 J.Lo grew up in the Bronx with the dream of becoming a professional dancer, and somehow grew into the actress, songstress, and TV personality we know today. In her memoir "True Love," she writes, "ambition and perfectionism can mean that we beat ourselves up for not being good enough or for making mistakes; but I wouldn't have half of my instincts or insights if not for my mistakes."
"Jenny from the block" makes an important point: you will make mistakes over the course of your career, but these can be important lessons that will make you a better employee and person. They also serve as reminders to stay humble when you do find success. So don't be afraid to make mess up…
Leo DiCaprio: "Wealth won't make you happy."
From growing up in a low-income home in a rough East Hollywood neighbourhood, to winning an Oscar and a position as a UN Messenger of Peace, DiCaprio is the epitome of the underdog success story.
In a candid interview, DiCaprio shared, "At the end of the day, it's not about achieving great wealth or success, because they don't bring happiness ultimately. What matters is whether or not you've fulfilled the idea of having led an interesting life, and whether you've contributed in some way to the world around you."
Listen to the man. He spends his time on yachts with supermodels. If he's not happy, there's no hope for any of us.
In all seriousness, though, Leo is making a very important point: staying in a job that you hate because it pays well is not healthy. Focus instead on a career that you're passionate about, or that you find fulfilling,  and odds are, you will lead a much happier life.
See also:
5 Steve Jobs quotes that will make you reevaluate your life choices
Career inspiration from Elon Musk
Career advice from 5 self-made celebs
_______
– Follow Workopolis on Twitter
– Sign up for the Workopolis Weekly newsletter
– Listen to Safe for Work, the Workopolis podcast